That same year, the founders wrote a letter to Nikola Tesla, a famous scientist in the region, asking him to authorize the association to bear his name. Two months later, the world-renowned scientist responded favorably by expressing his great honor.
The Ensemble has been nourished, since its creation, with the living folklore of its region to create its identity. The rich repertoire of dances from Serbia and the former Yugoslavia with their harmonious and rhythmic movements have enabled dancers and musicians to represent their cultural heritage in many festivals around the world.
The dances of Šumadija, Banat, Shopi, Vlachs, Macedonia, Gypsies and many others are choreographed using original costumes and authentic music from each region.
Serbian folk dance is an old tradition and a strong element of Serbian culture. Traditional dances are of social function, bringing the community and families together on different important days like weddings, Christmas or Easter. Dances can be part of performance art (theater, i.e. part of historical events) and social life. Kolo is the traditional collective folk dance; listed as Intangible Cultural Heritage by UNESO; where a group of people (usually several dozen, at the very least three) holding hands or around the waist, dance, ideally in a circle, hence the name. There is almost no movement above the waist. Each region has at least one unique kolo. The dance is accompanied by two-beat instrumental music with the same name, done most often with an accordion, but also with other instruments: frula (traditional type of flute), tamburica, sargija, zurla, gajde , tapan, or harmonica.
The presence of this ensemble was made possible thanks to the assistance of CIOFF Serbie.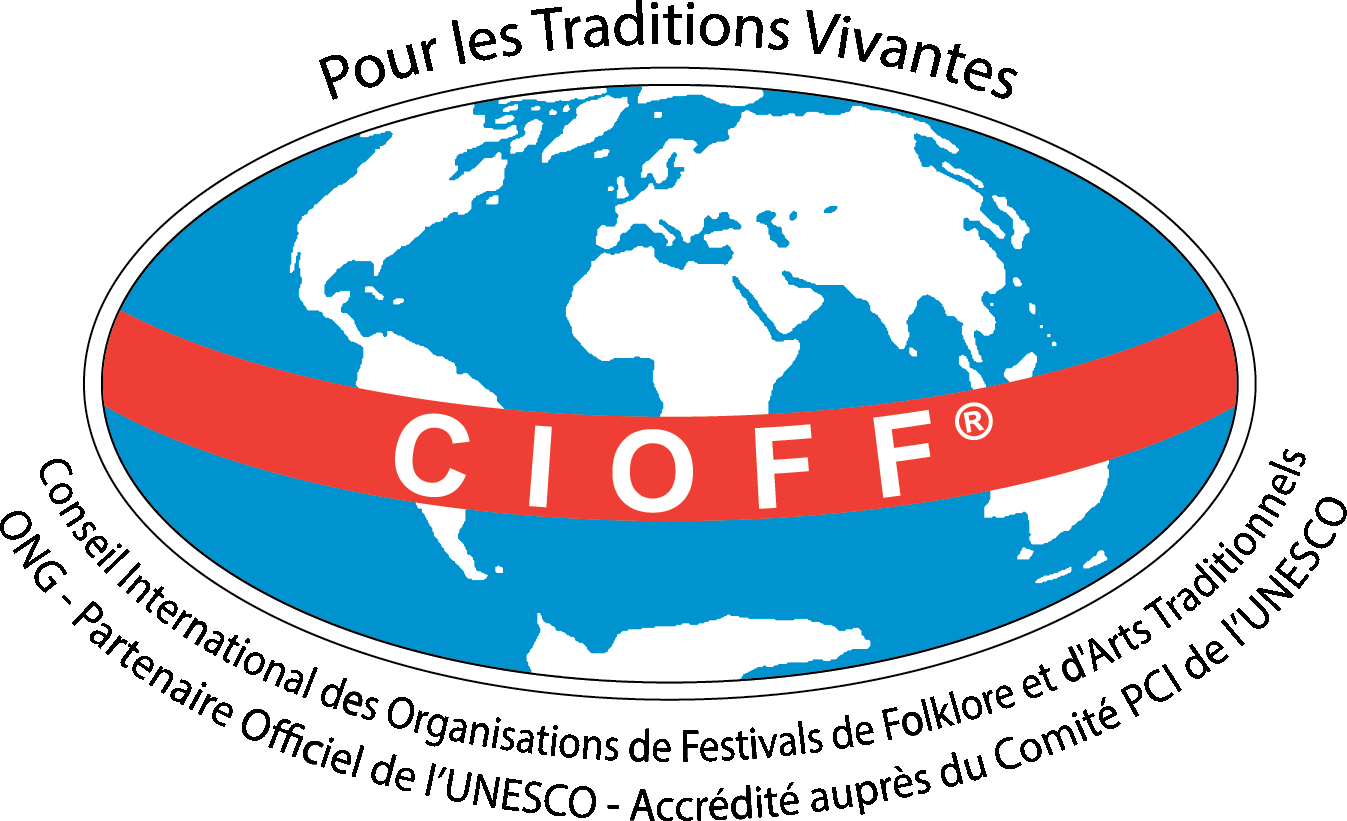 31 July 2022

1 August 2022

2 August 2022

18h15

Animation

Place Centrale, Pl. Centrale, 1920 Martigny, Suisse

 

Afficher sur la carte

🎬 Ça commence!! Tous les ensembles du festival vous accueillent au Coeur de Martigny.💗
🌧 Par mauvais temps déplacement à la Salle du Midi.
🇨🇭🇨🇿🇪🇨🇮🇹🇲🇩🇲🇿🇳🇵🇷🇸
Vallensis Highlanders - Equateur - Serbie - Italie - HéloHeïdi - Népal - République tchèque - Zimbabwe - Moldavie


18h45

Cérémonie d'ouverture

Place Centrale, 1920 Martigny, Suisse

 

Afficher sur la carte

Le Co-Président 🤹‍♂️ du FIFO donne les drapeaux 🏁, signe de paix, aux ensembles.
🌧 Par mauvais temps déplacement à la Salle du Midi.
🇨🇭🇨🇿🇪🇨🇮🇹🇲🇩🇲🇿🇳🇵🇷🇸
Vallensis Highlanders - Equateur - Serbie - Italie - HéloHeïdi - Népal - République tchèque - Zimbabwe - Moldavie

19h15

Parade des nations

Martigny Place Centrale - Rue de l'Hôtel-de-Ville - Rue des Marronniers - Rue du Simplon - Salle du Midi

 

Afficher sur la carte

Défilé entre la Place centrale et la Salle du Midi
Martigny Place Centrale - Rue de l'Hôtel-de-Ville - Rue des Marronniers - Rue du Simplon - Salle du Midi
🌧 Annulé par mauvais temps
🇨🇭🇨🇿🇪🇨🇮🇹🇲🇩🇲🇿🇳🇵🇷🇸
Vallensis Highlanders - Equateur - Serbie - Italie - HéloHeïdi - Népal - République tchèque - Zimbabwe - Moldavie

20h30

Spectacle d'Ouverture - Les Coeurs battent à l'unisson

Salle Du Midi, Rue du Simplon 4c, 1920 Martigny, Suisse

 

Afficher sur la carte

Le Spectacle d'Ouverture réunit tous les ensembles invités au festival. 🫶

🌍 Durant près de deux heures et demi les coeurs du monde dansent, chantent et jouent. 💃🪘🎤

🪩Dans un décor créé pour le FIFO à l'intérieur de la Salle du Midi, ce spectacle s'adresse à tous les amateurs de la découverte du globe à domicile et dans une ambiance chaleureuse et festive.🎊

🇨🇭🇨🇿🇮🇹🇲🇩🇲🇿🇳🇵🇷🇸
Vallensis Highlanders - Serbie - Italie - HéloHeïdi - Népal - République tchèque - Zimbabwe - Moldavie

🎟 Billetterie
Ouverture des portes 19h00 - Bar et Restauration

3 August 2022

17h30

Tradi'cine: Animation musicale - Serbie

Piscine municipale, Rue du Forum 19, 1920 Martigny, Suisse

 

Afficher sur la carte

🌞 Soleil, apéro🍻, terrasse et musique traditionnelle🪗. 🤿 Alors direction la piscine de Martigny. Lien: Piscine de Martigny

4 August 2022

20h00

Spectacle de Gala

Salle Du Midi, Rue du Simplon 4c, 1920 Martigny, Suisse

 

Afficher sur la carte

Les battements 💜 présentés lors du spectacle d'ouverture t'ont permis de faire le choix qui répondra à ta curiosité et tes goûts. Le FIFO te comblera en te proposant deux spectacles de gala. 🫶 Découvres, en détail, ton groupe préféré dans son tableau de 30 minutes.

🇨🇭🇮🇹🇳🇵🇷🇸
Vallensis Highlanders - Italie - Chanson de la Montagne de Nendaz - Népal - Serbie

🎟 Billetterie
Ouverture des portes 18h30 - Bar et Restauration


5 August 2022

6 August 2022

14h30

Grand Cortège Folklorique GRATUIT et Animation en ville

Martigny, Suisse

 

Afficher sur la carte

Plus de 350 artistes dérouleront leurs cultures traditionnelles dans un Grand Cortège Folklorique Gratuit. La quinzaine de groupes se nourrira de vos applaudissements, venez en nombre pour cette grande communion de Paix. 🕊

Parcours du défilé: avenue de la Gare, Place Centrale, Hôtel de Ville, avenue du Simplon, Salle du Midi

🇨🇭🇨🇿🇪🇨🇮🇹🇲🇩🇲🇿🇳🇵🇷🇸
Tambours d'Octodure - Chili- Zachéos - Serbie - La Comberintze - Italie - HéloHeïdi - Népal - Cor des Alpes de la Farandole - République Tchèque - La Chanson de la Montagne de Nendaz - Moldavie - Vallensis Highlanders - Zimbabwe - Mokshu Lions

20h30

Spectacle de Clôture

Salle Du Midi, Rue du Simplon 4c, 1920 Martigny, Suisse

 

Afficher sur la carte

❤️‍🔥🧡💛💚💙💜🤎🖤🤍Le grand battement de Coeur des Cultures Traditionnelles s'est propagée dans tout le Valais et plus particulièrement à Martigny durant ces 5 derniers jours.
Les derniers pulsations s'entendront lors de notre spectacle de clôture.
Venez aider nos artistes à propager encore plus loin ces couleurs de culture de paix et de non-violence. ❤️‍🔥🧡💛💚💙💜🤎🖤🤍


🇨🇭🇨🇱🇨🇿🇮🇹🇲🇩🇲🇿🇳🇵🇷🇸
Vallensis Highlanders - Jeunes de la Comberintze et de la Chanson de la Montagne - Chili- Serbie - Italie - HéloHeïdi - Népal - Cor des Alpes de la Farandole - République tchèque - Zimbabwe - Moldavie

🎟 Billetterie
Ouverture des portes 18h30 - Bar et Restauration